Loures
As part of the REMEDIO project, a participative process has been developed in order to face the urban renowal of the principal road of Moscavide (Loures, Portugal) following the general SUMP concepts.
Tags: Participative process, Urban Mobility
Principal road of Moscavide with traffic jams
Air and noise pollution
Lack of an intermodal transport perspective
Possible disconnection between the phases of analysis, participation and urban design
Reduce the use of private cars
Improve the environmental conditions and the pedestrian comfort
Improve intermodal transports and the coordination among the different road functioning
Coordinate the different phases of urban planning through the Integrated Mobility tool
This case tackles the upgrade of a central axis in Moscavide that needs to combine conventional traffic, the pedestrian zones and soft and sustainable mobility solutions.
The transformation included a participative process to give voice to local stakeholders, neighbours, business, and citizenship in general.
After the participative process a consensus was achieved including the following measures:
(a) two road lanes transformed into just one
(b) increase of the pedestrian area
(c) and inclusion of street furniture, small gardens and equipment.
This activity was not just about increasing the quality of life and environmental benefits but empowering the population with information and tools connecting them to the Municipality.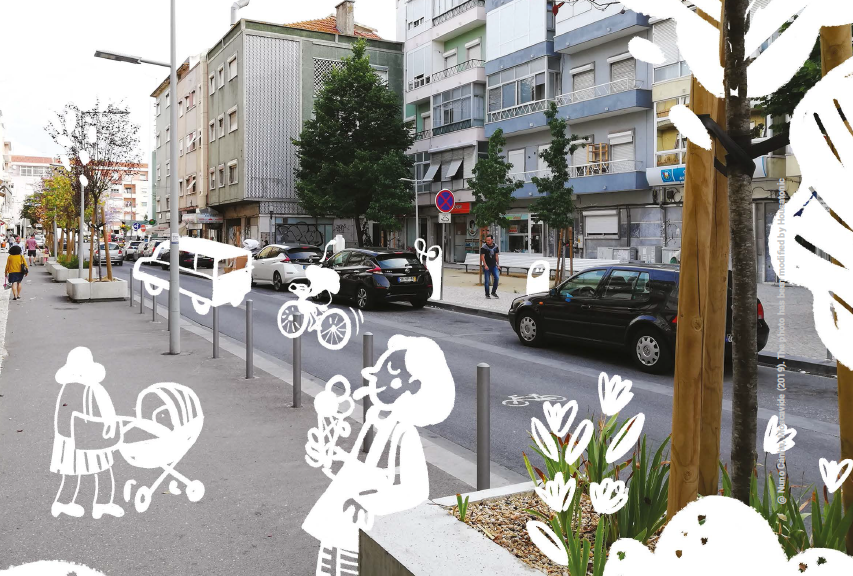 Objective: Structural modifications based on SUMP concepts with strong participative governance
Case study: Moscavide, Loures - Portugal
Time dimension: Permanent solution
Methodology: The "Horizontal Condominium"
Partner responsible: Municipality of Loures
Execution date: 2018
---
Main results of the action on low carbon
In Loures, the Moscavide area has a clear vocation for being a place for living, shopping and leisure, at very short distance from the capital but where the feeling of community is strong and gives identity. For this reason, beside the infrastructure renewal of the street in terms of walkability and cycling, agreements for a better liveability of the area are under implementation proposing both specific solutions for environmental issues both a dialogue with the local administration.
Structural modifications, with a huge emphasis on promoting soft and sustainable mobility solutions, were carried out to transform a congested avenue into a "horizontal condominium": two road lanes transformed into just one, increase in the public sidewalk and inclusion of street furniture, small gardens and equipment.
Results & impacts
increasing quality of life
decreasing environmental impacts
promoting participatory governance
Lessons learned
modification of an arterial avenue can impact and bring benefits for the whole city
population involvement is crucial for the dissemination and continuity of the project goals