Activities developed in Split under WP4
Participatory workshops
City of Split is in a process of delivering the methodological path for the participatory governance in order to include all necessary actions to reach and engage the important stakeholders and the general public .
An outline of possible stakeholders regarding the bicycle system in Split was made, as well as Timetable of the participatory governance actions.
Following the mentioned timetable, City of Split delivered:
1.
City of Split held a local event in Split, in collaboration with Mobilita evolva, in that event City of Split held open workshops with citizens of Split, on two locations, Campus area and Split downtown (Riva
).
The event took place on 19. of October 2017.
The citizens of Split were interviewed by fulfilling the questionnaire about mobility habits and solutions in the City of Split.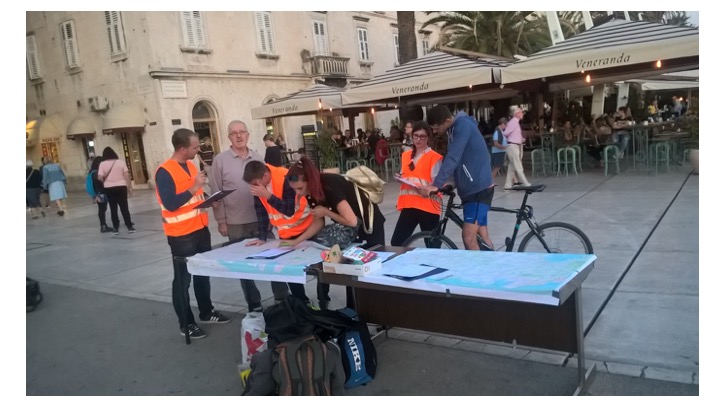 2.
Questionnaire
In October 2017, City of Split distributeda questionnaire containing 33 questions, approximate duration is 7 minutes, mostly based on traffic problems in the City of Split and traffic habits of the citizens.
Questionnaire mentioned above was distributed and fulfilled on the location in the City of Split, Campus location 99 citizens filed the questionnaire, while on the Riva location there were 103 filled questionnaires.
As it was also sent to some citizens online, in the period from 24.10.2017-8.12.2017. there were 579 more.
The results of the questionnaire were presented at the third transnational meeting held in Split, in November.
The presentation contains the mobility survey results, most specific ones are as follows:
- 42% of citizens of Split use car as a drivers as a main mode of transport while only 5% uses bicycle
- 61% of citizens is not satisfied with the offer of cycling infrastructure in Split area
- 70% of trips are up to 10 km from the place of residence to job/educational facility/most common destination (one way)
Link to the questionnaire is:
https://docs.google.com/forms/d/e/1FAIpQLSfqhFHi3JnSvxD1UGmgaeD9UppdQRmDAh0U7K6H9nMxE26jjQ/viewform
NEXT ACTIVITIES during the 2018:
- Workshop with REMEDIO target groups stakeholders, May 2018
- Public workshop, October 2018
- E-mail communication with target groups gathering qualitative data from target group stakeholders, from May to September 2018
All this should lead us to deliver Framework of Local agreements/ protocols/ MoUs