Activating Citizens in Participatory Governance Actions (Thessaloniki)
Questionnaire Survey to Users
1.
The questionnaire focuses on the opinion of the users regarding the project's goals and objectives and is a basic input for the workshops of the project.
Ø Among the main findings:
· 675respondents: 59% commuters through the axis, 32% local residents and 9% working in the area.
· 59% of the commuters use their private car for their commuting and 31% public transport (buses)
· 60% of thoseworking in the area use their car to go to work and only 22% use public transport(buses)
· 30% of the commuters cross the axis in its entire length daily 28% 3-4 times a week and 32% 1-2 times a week
· 58% of the residents park their cars along the axis, 35% within their premises and 7% on a paid parking lot.
· 65% of those working in the area park their cars along the taxi and 29% within the premises of their work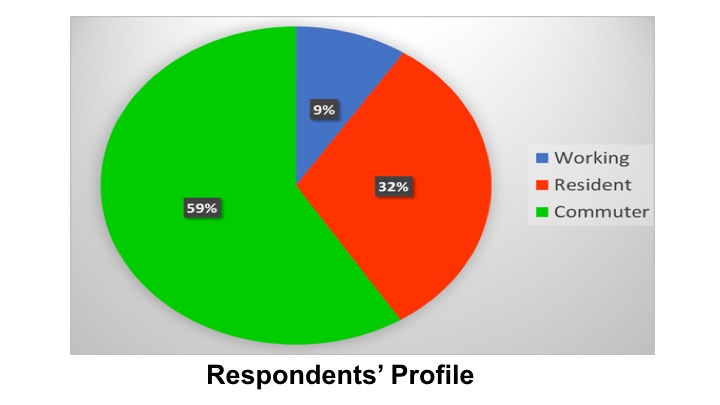 Ø The main advantagesand disadvantages of the axis according to the respondents:
i. Advantages: easy access to the city center, good public transport service, satisfactory daily shopping options, safe movement for the residents, direct proximity to the sea and comfortable sidewalks.
ii. Disadvantages: traffic congestion (due to illegal parking), air pollution that poses health problems, lack of parking space and noise pollution.
Ø Main interventions proposed to improve the quality of life, work and commuting within the transit area of ​​the axis: creation of new parking spaces in the available free areas of the area (85% of respondents!), regulation of the supplying of the stores (82%), control of illegal parking (82%), improvement of the operation and characteristics of the bus lane (81%) and creation of new green spaces (79%). Possible proposed interventions with more negative responses: reduce the width of the pavement (75%) and the pedestrianization of the surrounding verticalroads (45%).
2.
Questionnaire Survey to a sample of entrepreneurs who have their shops on the road. This is a more targeted questionnaire to owners or employees of local companies and focuses on the main problems in the axis and their consequences as well as on their opinion and reaction regarding the proposed solutions. It also operates as an input for the workshops.
Ø 85-90 questionnaires have been completed (sample: 10%): the results are currently under processing.
Ø 72% of the respondents have chosen this area for the location of their business due to the character of the area (main arterial road, easy access to the city center, served by public transport)
Ø Advantages of the axis according to the respondents:
i. positive opinion: easy access to the city center, public transport service, satisfactory daily shopping options
ii. negative opinion: satisfactory quaity of built environment, Proximity to areas of interest (for ex. in the city of Thessaloniki the question was "Proximity to the sea")